Kusatsu Hot Spring's Yumomi spot and Monkey Yumomi show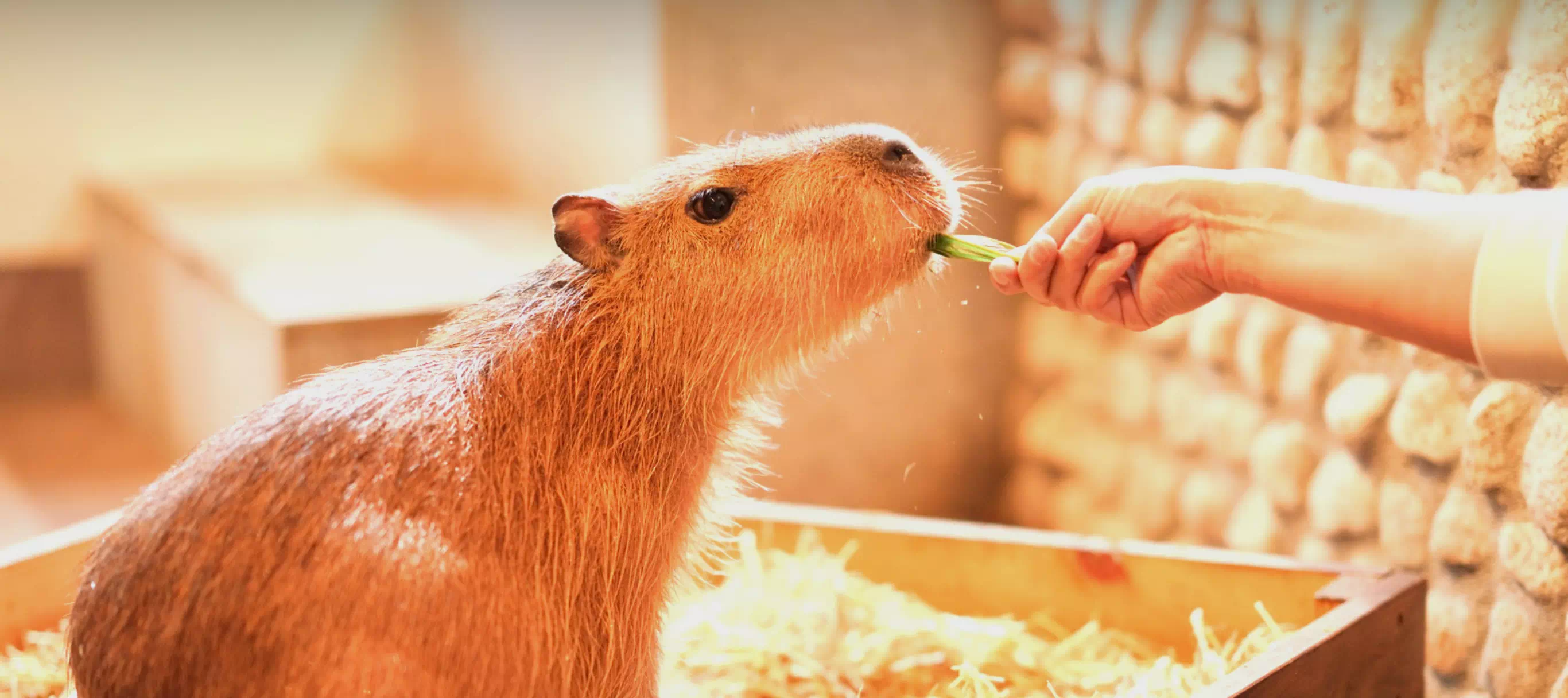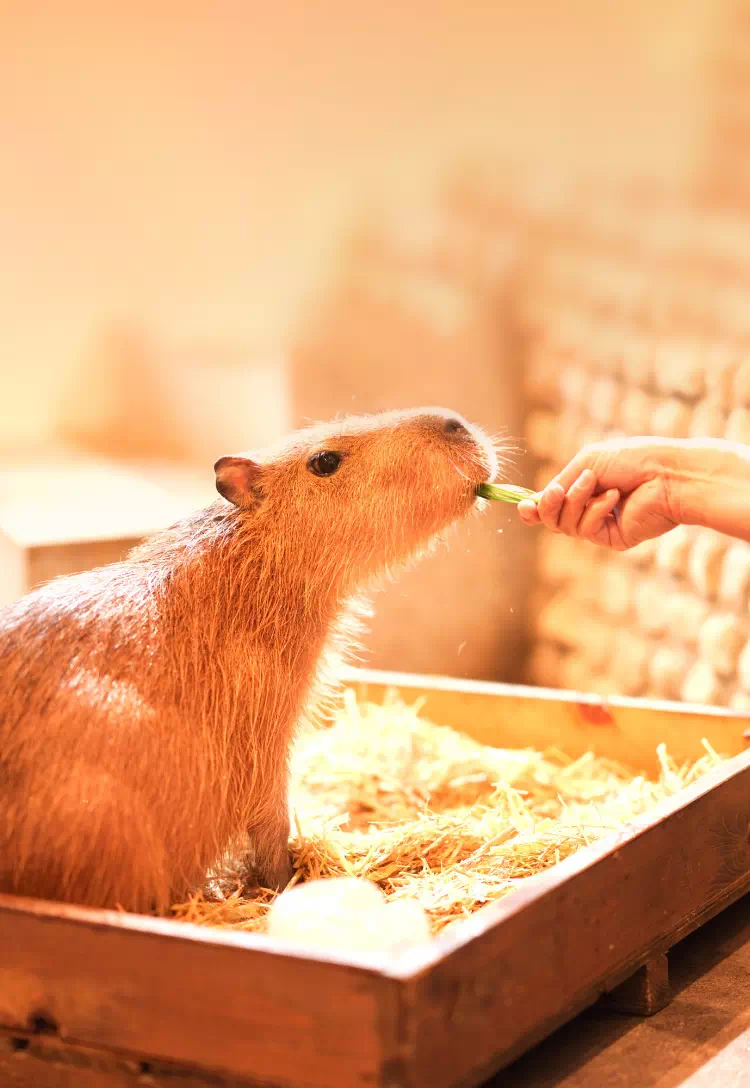 A new tourist attraction at KUSATSU Hot spring!
Kapiyu– Interact with our friends at Osayu.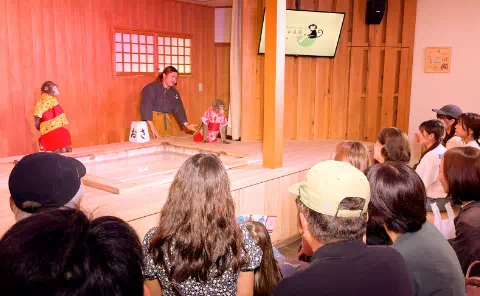 First in the world! Monkey Yumomi show at Kusatsu Hot Spring! Enjoy the Osayu experience!
The traditional Yumomi technique of Kusatsu Hot Spring that cools down the hot source spring without diluting its effects. Adorable monkeys will challenge this Yumomi technique. Be happy and be impressed! What kind of story awaits? Do visit us to find out.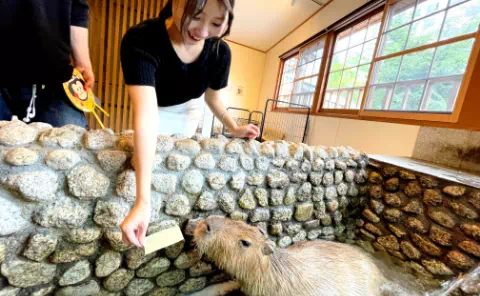 Kapiyu– Interact with our friends at Osayu. Come to be soothed and feel heart-warmed!
On the second floor of Kusatsu Hot Spring's Osayu, there is a hot spring for capybaras called Kapiyu. Be soothed by the capybaras leisurely soaking in the hot spring. The encounters with the rabbits and baby monkeys will inevitably warm your heart. There is also a cute diorama of the "Yubatake".
The monkey hot water kneading show begins at 10:00
in the morning and is held at various times throughout the day.
Each performance lasts about 10 to 15 minutes.
Operating hours
9:30 a.m. to 5:30 p.m.
※The performing cast and monkeys may differ depending on the timing.
This month's operating schedule.
[Osayu] Osayu's Yumomi spot
[Osayu] Stage for Yumomi show
On the first floor, there is a stage where the Monkey Yumomi show is performed. Please enjoy the Monkey Yumomi show which is a specialty of Kusatsu Hot Spring.
[Kapiyu] Animal interaction area
Be soothed by the sight of the capybaras
The adorable capybaras are relaxing in the hot spring (they are not always in the hot spring! They will get dizzy from the heat). Be soothed by their appearance.
Interact with our friends at Kusatsu Onsen's Osayu
A space to interact with Kapiyu's capybaras, rabbits, and baby monkeys. There is also a miniature "Yubatake" on display. ※Please take note that the friends who appear each time may be different.
Access to Osayu from Kusatsu Hot Spring bus terminal Osayu
Osayu
〒377-1711
505 Izumi, Oaza Kusatsu, Kusatsu Town, Agatsuma District, Gunma Prefecture, Japan It is approximately 7 minutes on foot from the Kusatsu Hot Spring bus terminal It is located on Sainokawara Street.

TEL:0279-82-1715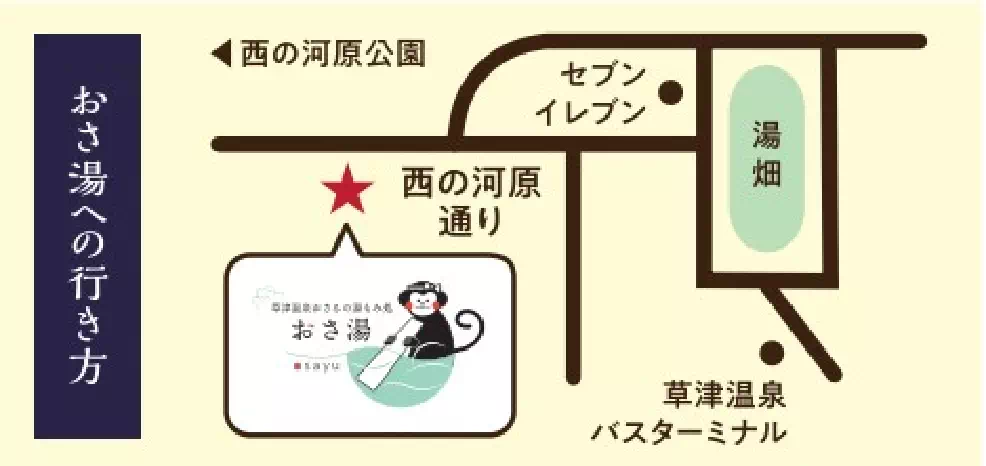 Same-day ticket
Same-day tickets can be purchased at the counter on the day of your visit. It is recommended to purchase your ticket in advance as it can be crowded during peak times such as during the weekends and summer vacation.
Advance ticket
You can purchase the ticket for Osayu, Kusatsu Hot Spring in advance. Please see the different ticket options below before proceeding with the purchase (You will be redirected to the Asoview website)
Osayu and Kapiyu combo ticket
1,000 yen
(tax included)/ person
1.[Osayu] Monkey Yumomi show
Enjoy the Monkey Yumomi show (First floor)
600 yen
(tax included)/ person
2.[Kapiyu] Animal interaction area
Enjoy the Kapiyu and animal interaction area (Second floor).
500yen
(tax included)/ person
※Please note that there are no children fares for all the above tickets. The fare is standard starting from elementary school children.